If you are looking for a fun and educational way to excite yourself or others about plants, gardening or nature, you have come to the right site! TickleMe Plants are easy for you to grow indoors year-round!
READ MORE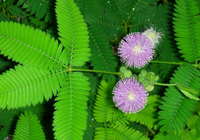 TICKLEME PLANT'S REACT TO BEING TICKLED!
---
ZOMBIE PLANT'S "pLAY dEAD" WHEN tOUCHED!
"TickleMe Plant Live on TV"
As highlighted in the New York Times!
Did You Know?
This Is Not a VENUS FLY TRAP but an even more Sensitive Plant
The scientific name is Mimosa pudica
Even the branches fall down when Tickled and re-open in minutes!
ADULT TICKLEME PLANTS CAN PRODUCE SPARKING PINK FLOWERS*
GREAT BIRTHDAY PARTY GIFT or WEDDING FAVORS or GOODY BAGS FOR KIDS!
STOCKING STUFFER
Guaranteed to grow even in WINTER!* UNIQUE SCIENCE AND GARDEN PARTY FAVOR!
START GROWING SOME NOW!
Our mission is simple
We want every child (and those young at heart) to have a positive experience growing plants. Growing the TickleMe Plant® from seeds, will be an adventure children (5 to 105) will never forget and neither will you!
OUR HAPPY CUSTOMERS
I can't wait to start growing them again, my kids think they are terrific

Joshua – California
I was even more excited when I learned that it could be planted in the house. It's a really cool plant

Yvonne – New Jersey
I plan to grow them and give them as gifts to my class. Thanks.

Thomas - Georgia